Bettini, The Clubhouse & Roxy Pool Bar
The Restaurants at Harbor View Hotel offer ocean views, fine dining, outdoor dining, comfort food & bars
Harbor View Hotel has three distinct restaurants. First, there is the award-winning Bettini Restaurant, an upscale, fine-dining restaurant offering refined contemporary American cuisine with gorgeous ocean views. Then, islanders and visitors flock to The Clubhouse at Bettini for its lively bar and lounge offering grab-n-go breakfast in the morning and upscale comfort food all day and into the night. Lastly, The Roxy Pool Bar is a favorite for outdoor dining and cocktails on a beautiful Vineyard summer day.
For Bettini Restaurant, we invite you to make a reservation via OpenTable, email or phone:
Please call or email to make a reservation for more than 6 people.
Hours of Operation
The Hotel, Restaurant, and Hotel Grounds will be closed for a private event from 9am on Friday, September 29th until 1pm on Sunday, October 1st. Thank you for your understanding.
Dinner at Bettini
5:00pm - Last Reservation at 9:00pm
The Bar at Bettini
5:00pm - Kitchen closes at 9:00pm, cocktails available until last guest or last call 12:00am.
Upscale Fine Dining. Spectacular Ocean Views.
Bettini Restaurant
Paris has The Ritz. Venice has Harry's Bar. And, Martha's Vineyard has Bettini, an upscale, fine-dining restaurant offering refined contemporary American cuisine and a fabulous selection of wine. The vibe is coastal chic with an elegant bar that draws a vibrant crowd of locals and island guests. Expansive windows reveal a magnificent coastal view that reinforces the kitchen's relationship with the local landscape, creating a seamless island-to-table dining experience. No need to sport your tie, no white tablecloths necessary, just relax and enjoy the best fine dining experience on the island.
The team at Bettini is committed to serving superior, seasonally available ingredients; menu preparations may change.
Breakfast | Menu
Dinner | Menu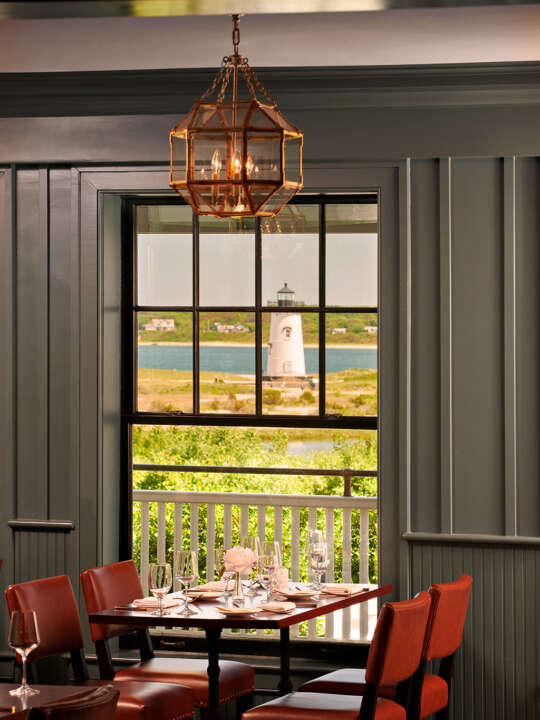 Upscale Comfort Food & Bar
The Clubhouse at Bettini
The Clubhouse at Bettini has been reimagined. This cozy, chic lounge now offers grab-n-go breakfast in the morning and upscale, comfort food for lunch and dinner with a full-service bar. With access to the beautiful veranda and view, this hidden gem is the best-kept secret in Edgartown. Located in the historic building, adjacent to Bettini Restaurant, The Clubhouse at Bettini offers comfortable bar seating, high-top tables, and cozy dining space, creating the perfect atmosphere for gathering and mingling.
Lunch & Dinner | Menu
Roxy Pool Bar
The Roxy Pool Bar, sprinkled with coral and white pillows, umbrellas, and cushy chairs on a brick and bluestone patio, is surely one of the most outstanding highlights of being a Harbor View Hotel guest. Set right by the pool and a dazzling landscaped garden, let the relaxation begin with a flute of champagne and a warm lobster roll. With fresh and delicious summertime dishes, the Roxy Pool Bar sets the mood for another perfect day.  Round up your friends at the firepit or pull up a chair at the bar and celebrate. Relax in the sun or sip quietly under the shade of an umbrella. The decision is yours. One choice, however, is clear: The Roxy is simply the place to be.
Roxy Pool Bar | Menu
From casual to elegant, a great experience is on the menu
Luxe Breakfast Package
Enjoy a delicious breakfast and a cuppa overlooking the Edgartown Harbor and Lighthouse on our Luxe Breakfast Package for two.
Food & Drink
Thursday, November 23rd
Bettini Restaurant
12:00 PM – 7:00 PM
Holiday
December 7-10, 2023
Edgartown